SaltStick FastChews
Sale price

RM 20.50

Regular price

RM 0.00
Share
SaltStick® FastChews® are delicious, chewable tablets that provide a similar ratio of electrolytes to what your body loses through sweat. Our scientific formula relies on cleanly sourced, buffered ingredients to help minimize heat stress and muscle cramping due to dehydration, without causing stomach discomfort.
FastChews are ideal for anyone who sweats, including athletes and outdoor workers, or in situations where you need a boost of electrolytes.*
SUGGESTED USE: Take 2 tablets every 15-30 minutes during physical activity. The electrolytes in FastChews absorb more quickly when you let them dissolve in your mouth, so it's best to wait 2-3 minutes before eating or drinking.
100 mg
Na
Sodium
30 mg
K
Potassium
10 mg
Ca
Calcium
6 mg
Mg
Magnesium

NATURAL FLAVOR

NON-GMO

NO ARTIFICAL SWEETENERS

GLUTEN FREE
VEGAN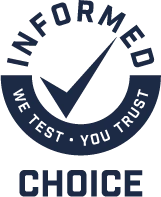 INFORMED CHOICE
The secret to our FastChews is the quick-dissolving tablet formulation. FastChews kickstart the electrolyte absorption process by entering the bloodstream through the lining of your mouth, which studies have shown to absorb nutrients 2-4x faster than through the small intestine.
SaltStick FastChews are regularly tested for banned substances under the Informed Choice program. Products undergo a rigorous, accredited four-step certification and testing process to provide athletes the highest level of assurance.